IT Services For Eastern Pennsylvania Businesses:
Are You Sick and Tired Of Dealing With IT Service Providers That Are Impossible To Reach, Won't Follow Through, Can't Fix Things Right, and Nickel and Dime You For Everything That They Do?
If so, give us a call and let us show you what fast, friendly and highly-responsive outsourced IT services should be for your small to medium business:

610-678-1978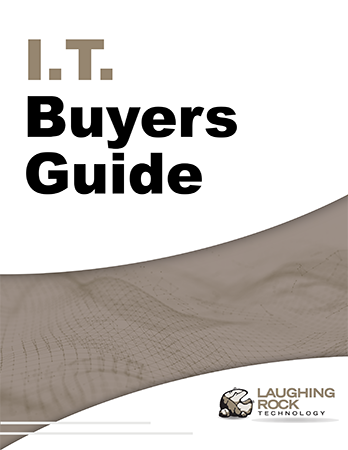 FREE GUIDE
The Eastern Pennsylvania Business Owner's Guide To IT Support Services And Fees
7 Big Reasons

to Choose Laughing Rock Technology
to Support Your Computer Network
About Laughing Rock Technology
Laughing Rock Technology has been providing technological solutions to organizations in Eastern Pennsylvania since 2005. From computer network design and managed services to Voice Over IP communications and advanced cyber security, Laughing Rock is committed to outstanding customer service while designing and implementing technology solutions that help businesses to increase employee productivity while reducing overall costs.
We have a saying at Laughing Rock: We are not a technology company, we are a customer service company that just happens to be amazing at technology!
Looking for Managed Services partner who actually answers the phone and is happy to hear from you? We got you. Want peace of mind knowing your working with an award winning Cyber Security company (Lehigh Valley Business Journal – 2017 through 2022), we are your solution. Just want an IT partner you enjoy working with? Contact us today to find out how good IT can be.